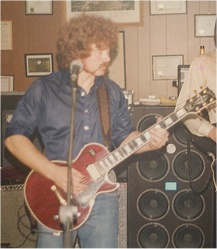 Carrol Ray Dollens was the Lead Guitarist and Vocalist for the group Mezmer from it's beginning and start in early 1977 to 1979 when he left the group because of musical differences.
After leaving Mezmer in 1979 Carrol Ray then went on to form his own band "Pacific Lights" which went on to see local success in the surrounding Mid-Mo area. In 1985 Carrol Ray again joined forces with former Mezmer band mates Randy Jones and Roger Haley to play in "Shekina" a christian rock band popular in the mid Missouri area for several years.
In addition Carrol Ray Dollens continues to play and tour in the Columbia and surrounding areas fronting his own band "Time Piece" who recently released their first CD.
..... To Be Continued .....
---
Page Maintained by Dr. Wiz © 2001 - 03