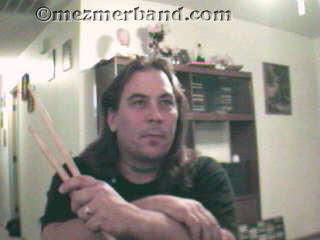 Born Richard Dean Barnes in Mexico, Missouri. Dikki developed an interest in music at an early age from listening to old Blues and Swing Band albums, his Father and Mother had laying around the house.
Naturally Dikki took an interest in playing music but always wanted to be a Drummer banging on pots, pans, coffee cans or whatever he could get his hands on. He did however at his parents request start out playing the trombone in the school band, but in 1967 Dikki got his first set of drums for Christmas and that was the end of the trombone he began to study the drums with a passion taking lessons from anyone he could find, so by the time Dikki was 13, he was playing with local and older high school musicians, in dance bands.
Playing in a variety of differant Rock and Roll Bands with names like DIRTYBIRD, MIDNIGHT EXPRESS, QUANTRILL'S RAIDERS and SPECTRUM BLUE, Dikki also gained knowledge playing in the pit bands for UP WITH PEOPLE and local church productions of GODSPELL and JESUS CHRIST SUPERSTAR.
Another group Dikki performed and toured with while in high school was The Marksman Quartet a southern gospel quartet that toured the Missiouri, Kansas and Oklahoma areas. Playing Concerts with other gospel groups like The Blackwood Brothers, The Oak Ridge Boys and JD Sumner and the Stamps Quartet. This later lead to several summer concert jobs playing with J.D. Sumner and the Stamps and Kelly La Rue a popular Country & Western singer from the TV show HEE-HAW.
After Graduation from Mexico Senior High in 1975, Barnes attended Culver-Stockton College in Canton Mo. majoring in music, and taking private drum & percussion lessons under Hugh Sebbs at Quincy University. While in college Dikki and his band Stormtrooper worked out of the local union halls. Playing clubs and opening area concerts for acts such as Mary MacGregor, Hamilton, Joe Frank & Renolds, Head East, Lobo and Mungo Jerry.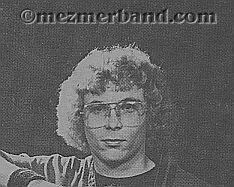 After two years of college Dikki Barnes returned home to Mexico Mo. Where along with Bass player Randy Jones, Guitarists Roger Haley and Carrol Ray Dollens re-formed the group MEZMER into a High Energy Rock Show Band that dominated the Mid-Missouri Rock and Roll Arena. Jimi Foreman was added as Lead Singer for the group in 1977 augmenting the already Powerhouse Quartet. When musical differences in 1979 lead to the departure of Carrol Ray to pursue other musical interests, Frosty Vestal was brought into the band to replace him. For the next five years MEZMER Dominated the Mid-Missouri area performing Concerts & Shows at County Fairs, Bars & Clubs and various venues all thru the Midwest. After a while all the rehearsals, shows, and road life in general began to take its toll on Dikki and Mezmer so the group for various Family, Religous, Musical and Personal reasons parted ways, even Dikki himself, after a short Tour of Duty with the Riverside Avenue Band found himself looking for something different.

During Mezmer's 1984 to 2000 hiatus Dikki traveled to many parts of the world courtesy of the U.S. Navy, upon returning home to Mexico, Missouri he once again began playing and filling in with various area bands such as Code Zero, DiversioN, Gypsy Soul and St. Elmos Fire. In May of 2000, Dikki performed with Rock and Roll Legend Chuck Berry.

Some of the artists Dikki has played with or shared the stage with include: Chuck Berry, Nitty Gritty Dirt Band, The Blackwood Brothers, The Oak Ridge Boys, JD Sumner and the Stamps Quartet, Missouri, Head East, Mary Magregor, Hamilton Joe Frank and Reynolds Mungo Jerry and Mama's Pride.

For all you gear heads Dikki plays, ...........

In addition to his work with Mezmer, .........

To Be Continued........