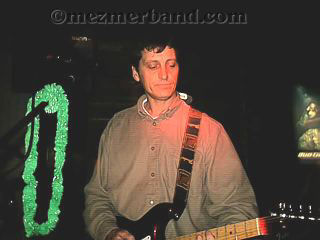 Frosty Vestal is once again back to handle the lead and slide guitar parts, along with lead and background vocals for Mezmer.
Frosty Vestal originally joined Mezmer in 1979 when guitarist Carrol Ray Dollens left the group because of musical differences, and then teamed up with guitarist Roger Haley to complete the powerful Mezmer twin lead sound. Frosty was a part of the band untill it's 1984 breakup.
Now with Mezmer's return to the Mid-Missouri music scene in June of 2001 Frosty has stepped even more into the spotlight, Frosty's new guitar work and vocals along with his trademark southern slide guitar and leads, has became an important part of the new Mezmer sound.
During Mezmer's 1984 to 2000 hiatus, Frosty put his music on the back burner playing occasionally with various local groups and musicians in order to spend more time enjoying the family life with his wife Bonnie and children Shawn, Layla, Jamie and Kiersten.
"Every once in a while, I would run into Dikki and we would reminisce about the old Mezmer and how nice it would be to reunite or reform the band. I didn't think we would ever have the chance to play together again until Fenny started coming over to the house and we began to form a unique blend of guitars"
In August of 2000 Frosty along with Dikki Barnes teamed up once again as the core Mezmer members along with Scott Sanders, Scott Fennewald and several months later the addition of Norm and Kibbie Batchelder in the revival of Mezmer.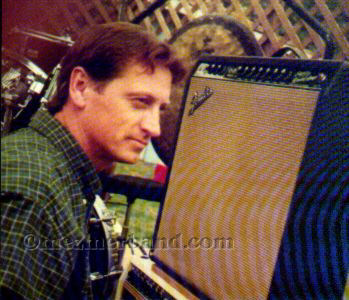 Frosty remembers his first guitar was made for him by his two older brothers out of two scraps of wood and some kite string when he was around 7 yrs. old, they probably started out laughing their asses off, but after seeing my reaction and excitement I think they took a little pride in it.
I soon started picking up various old guitars from my brothers friends such as Rangers, Silvertones anything I could get for 10 to 15 dollars with strings and a pickup although it would still be a couple of years before I would save enough to get my first amplifier.
Guitar players did not play as big a part in my life at this time as did the songs they played, I listened to The Beatles, The Stones, Hendrix, Poco, The Rascals, Brewer & Shipley, The Monkees, Motown anything that was on the radio..... But in the early 70's when my brother Frank came home on leave from the Navy, he showed me a couple of chords and while I was playing this rhythm he pulled out this glass tube and started playing! That was it, I loved that sound and I've been hooked, on The Allman Brothers Band ever since.
My guitar influences now began to range from Duane Allman, Dickey Betts, Toy Caldwell, Roy Buchanan, Carlos Santana, Les Dudek, Ronnie Montrose, Hughie Thomason & Billy Jones of the Outlaws along with a guy from Texas that doesn't get as much recogination as he deserves Bugs Henderson. I also love hearing guitarists like Eric Johnson and Joe Satrian, very few players take it to the next level but these guys do.
When my brother Frank was discharged from the Navy, we quickly formed the band Southern Comfort with myself on rhythm guitar and Frank on lead guitar, we played as much, if not more, then many local bands one of the most memorable jobs I remember was sometime around 1977 when we were asked to open a NAACP talent show for The Tony Galbreath Band in Fulton, Mo. at the time, Tony was also just starting his career as a NFL running back, so the place was packed with his hometown fans and we finished our set to a standing ovation.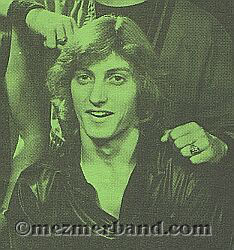 Frank and I kept the band together until the late 70's, When I began to hear about this band Mezmer that was developing a strong following around the area so I went to listen to them one night and I realized why! They were doing the power twin leads with Les Pauls running through walls of Fender and Marshall amps, and they had the sound!! Roger Haley was sensational on guitar and so precise, these guys were at a level we could never get our band. I spent the next several months hanging out, just getting to know the guys and learning everything I could from Roger and when Carol Ray left the group in 1979 leaving a vacancy in the band, I was asked to try out and I said "I'm Your Man" Now my rhythm playing had always been pretty strong, but in my brothers band there was only one lead guitar and that was him. I thought it would be the same with Roger, but it wasn't. I give a lot of credit to my brother in the early 70's but it was Roger in the late 70's that took over and kept pushin' me telling me to learn this solo or that solo. How do you play next to a guy like Roger?

You Practice A Hell Of A Lot and That I Did!!
For all you gear heads Frosty currently plays, a 1977 Les Paul Deluxe guitar he bought the year he graduated from high school and a 1979 Fender Stratocaster he picked when he first joined Mezmer. These guitars are played thru a 1965 Fender Super-Reverb amp and a 1983 Mesa Boogie stack simultaniously
In addition to his work with Mezmer, .........