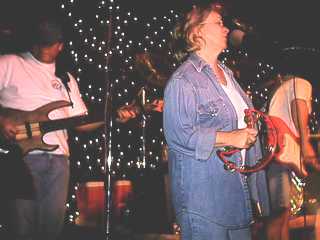 Kibbie Batchelder provides lead and background vocals. She also enhances the sound with acoustic guitar and back-up percussion for Mezmer.
Kibbie joined Mezmer in April of 2001 after relocating from Charlevoix, MI. She has brought to Mezmer a new and long awaited sound that has expanded the musical foundation for the other members of Mezmer build upon.
Kibbie began touring as a teenager with the NASHVILLE EXPRESS, fronting such artists as Kris Kristofferson, Willie Nelson and numerous Opry acts. In the late 70's, she settled into the family owed Delta Record Company in Nashville, Tennessee as a full-time session vocalist. In addition, she made guest TV appearances as well as occasional tours. Over the next 15 years, she began writing and expanded on the family business by opening Nation Talent Agency in Madison, TN.
The past eight years, Kibbie has put her country roots on the back burner to pursue her passion for blues and love for rock'n'roll. She has played with many groups through MI and her writing has become a substantial part of her musical pursuits. Kibbie attributes this to finding her writing partner, Chris Chapman. Some of the tunes this duo has written have been added to Mezmer's repertoire with great success.
In addition to her work with Mezmer, Kibbie Batchelder enjoys redecorating her new home and is looking forward to going to the stock car races this year with her husband Norm.