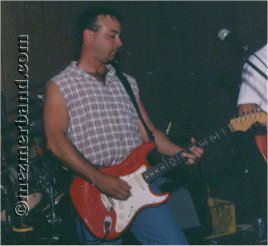 After leaving Ambush several years later, Scott sat in with many area bands such as Shark and Risk while he continued to write and work on his original music then later teamed up with his close friend Frosty Vestal to pursue his love of music and guitar. Jammin' together Scott and Frosty began to form a unique blend of guitars, one that Dikki noticed when they crossed paths at a Blues Jam in Hartsburg, Missouri in 1999.
For all you gear heads Scott uses a '79 Fender Stratocaster, an Alvarez electric/acoustic shallow body 6 string, a Martin electric/acoustic 12 string and a shit eatin' Les Paul copy who's background is unknown but makes it's presence obvious. All these are played through a Fender Hot Rod Deluxe amplifier with custom stack and various effects pedals by.....
In addition to his work with Mezmer, Fennwald likes playing with high voltage electricity ( kinda ironic ) working for Consolidated Electric of Mexico. Scott enjoys going to concerts, music, and watching stock car racing or to sum it up life in the fast lane in general.
Scott currently resides in Mexico with his wife Stephanie, stepson Harrison and a new baby boy Jesse who is coming October 21 or October 28