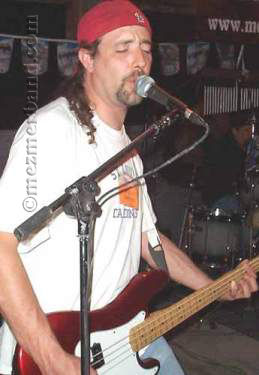 Steve Turner is the Bass Guitarist along with Lead and Backup Vocals for Mezmer.
Steve is the newest member of Mezmer, joining the group in November of 2002 to fill the bass guitar and vocal position left open after the departure of Norm Batchelder who left the band in October of 2002.
Steve Turner hails from Mexico, Missouri and has an extensive musical background Which includes many years of Club and Concert performances as bass guitarist for such Mid Missouri groups as Xanax, Salt Of The Earth, Gypsy Soul, Risk, and Nightwind.
Steve says Highlights of his career include: "Playing With Mezmer!"
For all you gear heads out there, Steve has expanded his equipment and now uses the following gear: 2 Ampeg 810 Speaker Cabinets, for a total of 16 10's powered by a Ampeg SVT II head with a Fender Precision, and a Gibson Explorer bass guitar.